Play-Off's are the pinnacle of our season! 4 of the best teams from each division play each other in a knockout tournament; Round 1 = Semi-Final, Round 2 = Final.
The date of the Play-Off's is always the weekend following the end of our regular season and is only open to U11-U14 teams. For the Spring that will usually fall on the weekend before schools break for Summer vacation, for the Fall season the weekend before Thanksgiving is typical.
Qualification & Seeding
The TOP 4 TEAMS in each division qualify for the 11v11 Play-Off's. Regular season standings are calculated by:

    Highest Total Points (3 for a Win, 1 Tie, 0 Loss)
    Best Head-to-Head Record (Goal Aggregate Counts!)
    Goal Difference
Seeding:
1st Place ----v--- 4th Place
2nd Place ---v--- 3rd Place
Tournament Format & Rules
Coaches are required to check in at the Registration Desk/Tent PRIOR to their games.
Coaches should bring a minimum of 3 official MYSA roster for Saturday's games (add another 3 for Sunday if team wins)

Games are 35min halves (as normal)
If scores are tied - no overtime - directly to penalty kicks.
Penalty Kick Procedure:

Referee will usually decide which goal to use
All players other than the kicker and the goalkeepers must remain in the center circle
Only players who were active on the field at final whistle qualify to take kicks
The goalkeeper who was active at the final whistle will be the nominated goalkeeper for the shootout
Teams take turns to kick from the penalty mark until each has taken five kicks. However, if one side has scored more successful kicks than the other could possibly reach with all of its remaining kicks, the shoot-out immediately ends, regardless of the number of kicks remaining; this basis is called "best-of-five kicks".
If after five rounds of kicks the teams have an equal number of successful kicks, additional rounds of one kick each will be used until one team scores and the other misses. This is known as sudden death.
The team that scores the most successful kicks at the end of the shoot-out will be the winner of the match.
Parking & Field Map
Address: Wilbraham Middle School - 466 Stony Hill Road, Wilbraham

Please expect parking at Wilbraham Middle School to get busy around lunch time. Under no circumstances should people park road-side, or at the emergency entrance next to the snack-bar pavilion - you will be ticketed and towed. Dogs are not permitted on the premises.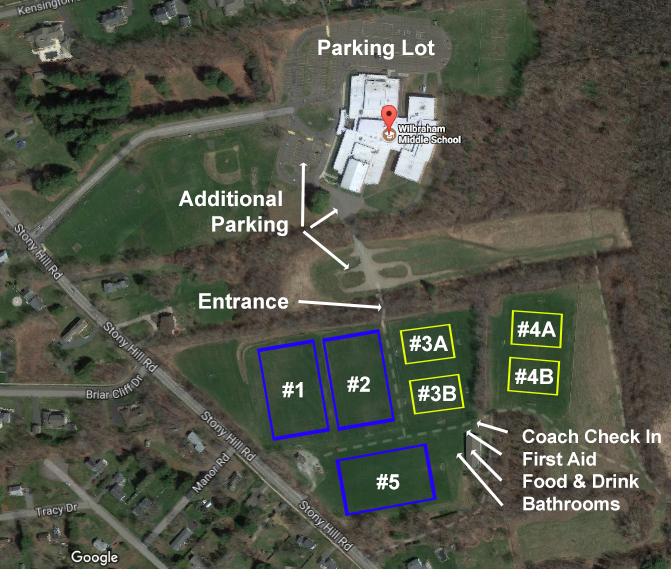 Game Schedule
Due to the current restrictions on Tournament Play due to COVID-19 - we regret to say that all Play-Offs are cancelled for Fall 2020.